In History-making Moment, Dr. Chang-Jae Shin of Kyobo Life Joins Father in Insurance Hall of Fame
New York, New York – March 21, 2023: The International Insurance Society (IIS) has named Chang-Jae Shin, MD, the trailblazing chairman and CEO of the Korea-based Kyobo Life Insurance Company, the 2023 Insurance Hall of Fame Laureate. Dr. Shin is the first legacy inductee in the 66-year history of the award. His father Yong Ho Shin, the founder of Kyobo Life, is the 1996 Laureate. Dr. Shin will be formally honored at the Global Insurance Forum gala on Nov. 6, 2023. The gala, along with the Global Insurance Forum, will be held at the Hilton Singapore Orchard. The Forum runs from Nov. 5-7.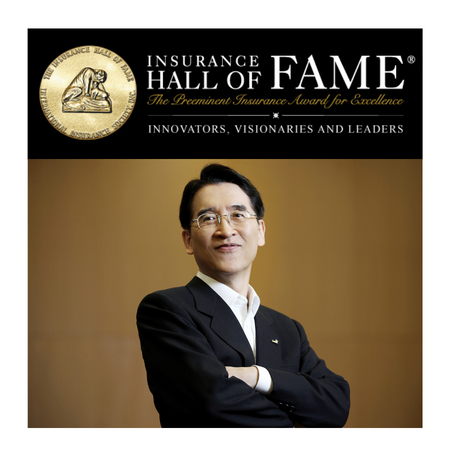 The Insurance Hall of Fame recognizes leaders who have made a broad, encompassing, and lasting contribution to the insurance industry. They are recognized by their peers as innovators and visionaries and inspire others to recognize the crucial role insurance plays in meeting the security needs of a global society. Nominees for the Insurance Hall of Fame are submitted by IIS members and evaluated for selection by the IIS Executive Council, a body of senior insurance executives and academics. Recent Laureates include Larry D. Zimpleman of Principal Financial, A. Greig Woodring of RGA, Michael A. Butt of Axis Capital, and Shuzo Sumi of Tokio Marine. 
"Dr. Chang-Jae Shin embodies the spirit of the Insurance Hall of Fame through his change management, visionary leadership, and people-first approach," says Josh Landau, president of the International Insurance Society. "Dr. Shin's commitment to leading with love, affection, and respect for all human life based on stakeholder relationship management has established Kyobo as one of Korea's most successful insurers and a pioneer in ESG and sustainability initiatives," adds James Vickers, chair of the IIS Honors program. 
As a business leader and former medical doctor, Dr. Shin believes in a "Human-centered Stakeholder Relationship Management" philosophy: demonstrating love and respect for all human beings can spare people from anxiety and help them prepare for adversity. Amidst the digital disruption, Kyobo Life is currently going through a business transformation. This is reflected in Kyobo Life's Vision 2025 aiming "to become the leading financial company delivering value in art and culture by 2025." The company's mission is to holistically enrich everyone's lives through financial, intellectual, and cultural growth. The core values of Kyobo life are Tenacity and Creativity, Customer Orientation and Honesty, and Integrity.
When Dr. Shin took the helm of Kyobo Life as CEO in 2000, the company was still suffering in the wake of the Asia financial crisis. In response, Dr. Shin initiated a company-wide change management program focused on improving customer satisfaction, achieving financial stability, controlling risk, and shifting the business model from quantitative to qualitative growth. Dr. Shin communicated actively with the employees and executives to create empathy and enhance participation. These efforts paid off. The financial performance of the company continued to improve in terms of profit, capital, and financial stability, culminating in 2009 when Kyobo Life was awarded "Life Insurance Company of the Year" by the Asia Insurance Industry Awards.

At the International Council for Small Business (ICSB) Forum at the United Nations, Dr. Shin spoke of his management philosophy. He stated that he has "often seen many companies pursue short-term profit, rather than winning the hearts of the employees and their customers." However, he added that "when a company considers the value of all stakeholders, namely, employees and customers, they can deliver superior financial performance, and only through this approach, can a company create a virtuous circle where profit is maximized and all stakeholders including shareholders can prosper." Dr. Shin often compares profit to oxygen. "Human beings cannot live without oxygen, but we do not live for oxygen," he says. "Likewise, a company cannot exist without profit.  However, a company should not exist merely for profit." Dr. Shin states that "the mission of our company is to deliver value to all stakeholders." He believes that "if a company delivers sufficient value to all stakeholders, that the profit will naturally follow."

Kyobo Life invested KRW 8.6744 trillion in socially responsible investments in 2022 and also issued sustainability subordinated capital securities amounting to US 500 million. Global credit rating agencies also recognized the company's financial performance and in 2022, Moody's assigned an "A1" rating to Kyobo for the eight consecutive year. This is the highest credit rating ever received by a life insurer in Korea. Meanwhile, Fitch Ratings gave Kyobo an "A+" rating for the tenth consecutive year.

In September 2010, Kyobo Life became the first insurance company in Korea to join the United Nations Global Compact (UNGC). Since its participation in this initiative, the company has established ten principles under four pillars, namely human rights, labor, the environment, and anti-corruption. 
Dr. Shin's "Human-Centered Stakeholder Relationship Management" has also contributed to the company's sustainability. Kyobo has been ranked No. 1 in the life insurance sector of the Korean Sustainability Index every year for 13 consecutive years since the evaluation began in 2010.

###

About International Insurance Society
IIS serves as the inclusive voice of the industry, providing a platform for both private and public stakeholders to promote resilience, drive innovation, and stimulate the development of markets. The IIS membership is diverse and inclusive, with members hailing from mature and emerging markets representing all sectors of the re/insurance industry, academics, regulators and policymakers. As a non-advocative organization, the IIS serves as a neutral platform for active collaboration and examination of issues that shape the future of the global insurance industry. Its signature annual event, the Global Insurance Forum, is considered the premier industry conference and is attended by 400+ insurance leaders from around the globe.
Founded in 1965, the IIS is a 501(c) 3 not for profit organization based in New York, NY. IIS is an affiliate of The Institutes.

About The Institutes 
The Institutes are a global not-for-profit comprised of diverse affiliates that educate, elevate, and connect people in the essential disciplines of risk management and insurance. Through products and services offered by The Institutes' nearly 20 affiliated business units, people and organizations are empowered to help those in need with a focus on understanding, predicting, and preventing losses to create a more resilient world.
For further information contact:
Colleen McKenna Tucker
Executive Director 
International Insurance Society
Tel.: +1 212 277 5164
Email: cmckenna@internationalinsurance.org